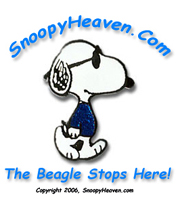 About SnoopyHeaven.com!


All credit card orders will show up on your receipt as AALLC which is our corporate name.
All items marked "FREE SHIPPING" will be sent via first class mail even if you choose priority mail due to the limitations of our ordering software.

We here at SnoopyHeaven.com appreciate your business!

We are a company based in Mobile Alabama, Owned and operated by the Martin Family.

We promise we will do everything we can to make sure you are happy with your purchase.

We are Open Monday Thru Friday from 5pm - 8pm, but our computer ordering system runs 24 hours a day - 7 days a week.

Any order you complete by 7pm our time, usually ships the next day!!


Please see our shipping info area for shipping details

While we usually have every item we offer in stock, we can sometimes be hit with unforeseen delays in the receiving and ordering of certain items ( usually only high priced items that we stock in smaller quantities.) If an item is listed as "Out of Stock", this is a very temporary situation at best and we will be happy to accept your order via an email at SnoopyHeaven@Comcast.net . We can then let you know when the item returns to stock. We will do almost anything to make sure you are 100% pleased with your purchase.

Please remember :
If you pay by credit card, that charge will show up on your credit card statement as AALLC which is our legal company name. Orders made by money order will only be filled after the money order is received. If the money order is not received with 10 days of the order date, the order is canceled, and the item or items returned to inventory.