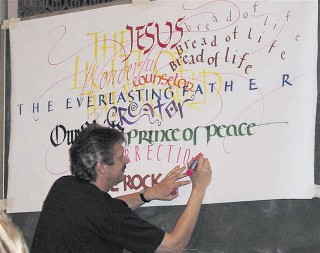 A note from Timothy R. Botts....
In first grade my art teacher, Mrs. Stanton first identified me as an artist and handpicked me for Saturday classes in her home. I began noticing letterforms in sixth grade when I found a Speedball lettering book in the process of doing a circus poster. When I went off to college to study art I discovered calligraphy through the child-like wonder of Arnold Bank.
As one who reveres the Holy Bible as God's words, calligraphy became a natural link between my art and spirituality. During my time at Carnegie I was also influenced by the contemporary visual expressions of faith in the works of Ben Shahn and Corita Kent. Additionally, my graphic design training gave me tools for clear and powerful communication.

Three years in Japan taught me the freedom of the brush and a broader understanding of space and asymmetry. In most of my work I am making word pictures - words expressed to look like what they mean. My work is characterized by variety, a reflection of my observation of nature. The frequent joy comes from my personal experience with the gospel of Jesus.

Imaginative appropriateness sums up what I have learned from my experience in publishing. I'm always trying to come up with fresh ideas which get right to the heart of the message.

I am currently helping to start Masterpiece Ministries whose purpose is to help young people identify and develop their artistic gifts in the context of Christian community.
About Giclée Printing

A giclée (zhee-CLAY) print is an individually produced, high-resolution, high-tech reproduction done on a special large format printer. Giclée prints are produced from digital scans of existing artwork.
Giclée prints are superior to traditional lithography in nearly every way. The colors are brighter, last longer, and are so high-resolution that they are virtually "continuous tone", rather than tiny dots. The range, or "gamut" of color for a giclée print is far beyond that of lithography and details are crisper.
Giclée prints were originally developed as a proofing system for traditional lithographic printing presses. It soon became apparent that the presses were having a hard time delivering the quality and brilliant color of the giclée proofs. Lithography uses tiny dots of four colors--cyan, magenta, yellow and black--to fool the eye into seeing various hues and shades. Colors are "created" by printing different size dots of these four colors.
The giclée printer used by Inkwell Greetings utilizes ink jet technology, however, our printer is far more sophisticated than your desktop ink jet printer. The process employs seven colors of archival-quality ink -- blue, cyan, red, magenta, yellow, photo black, matte black, and gloss enhancer if necessary -- of light fast (fade-resistant) pigmented inks. Finer, more numerous replaceable print heads result in a wider color gamut. The ink is sprayed onto the page, actually mixing the color on the page to create truer shades and hues.