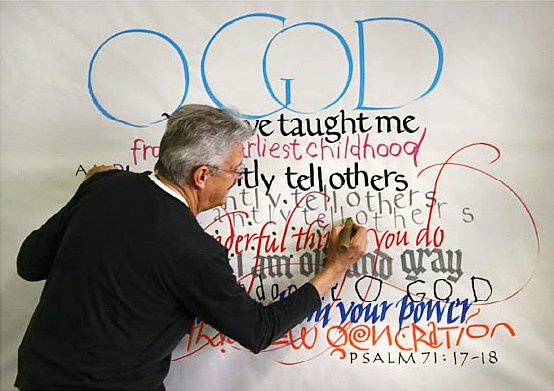 Timothy R. Botts is a master calligrapher who studied graphic design and calligraphy at Carnegie-Mellon University. After graduation, he and his wife Nancy spent three years in Japan teaching conversational English where he was exposed to the rich brush writing tradition of the east. Then he began a forty-year career at Tyndale House Publishers designing books and Bibles, retiring as senior art director in 2012.
Tim helped start Masterpiece Project, an outreach to high school students in the arts, and currently serves as their artistic director. He also teaches calligraphy part time at College of DuPage in Glen Ellyn, Illinois and has taught numerous workshops throughout the United States and internationally.
Tim's work is part of the permanent collection of the Newberry Library in Chicago. Ten books of his work have been published, including Doorposts, Messiah, The Botts Illustrated Bible, and Bound for Glory.
Tim says of his own work: I aim to make the words look like what they mean, always trying to strike a balance between legibility and expression. Making these word pictures is, for me as a visual person, the strongest way to reflect on God's Word. To share them with others is an additional joy.
About Giclée Printing

A giclée (zhee-CLAY) print is an individually produced, high-resolution, high-tech reproduction done on a special large format printer. Giclée prints are produced from digital scans of existing artwork.
Giclée prints are superior to traditional lithography in nearly every way. The colors are brighter, last longer, and are so high-resolution that they are virtually "continuous tone", rather than tiny dots. The range, or "gamut" of color for a giclée print is far beyond that of lithography and details are crisper.
Giclée prints were originally developed as a proofing system for traditional lithographic printing presses. It soon became apparent that the presses were having a hard time delivering the quality and brilliant color of the giclée proofs. Lithography uses tiny dots of four colors--cyan, magenta, yellow and black--to fool the eye into seeing various hues and shades. Colors are "created" by printing different size dots of these four colors.
The giclée printer used by Inkwell Greetings utilizes ink jet technology, however, our printer is far more sophisticated than your desktop ink jet printer. The process employs seven colors of archival-quality ink -- blue, cyan, red, magenta, yellow, photo black, matte black, and gloss enhancer if necessary -- of light fast (fade-resistant) pigmented inks. Finer, more numerous replaceable print heads result in a wider color gamut. The ink is sprayed onto the page, actually mixing the color on the page to create truer shades and hues.