Santa Margarita River Trail by Gayle Pena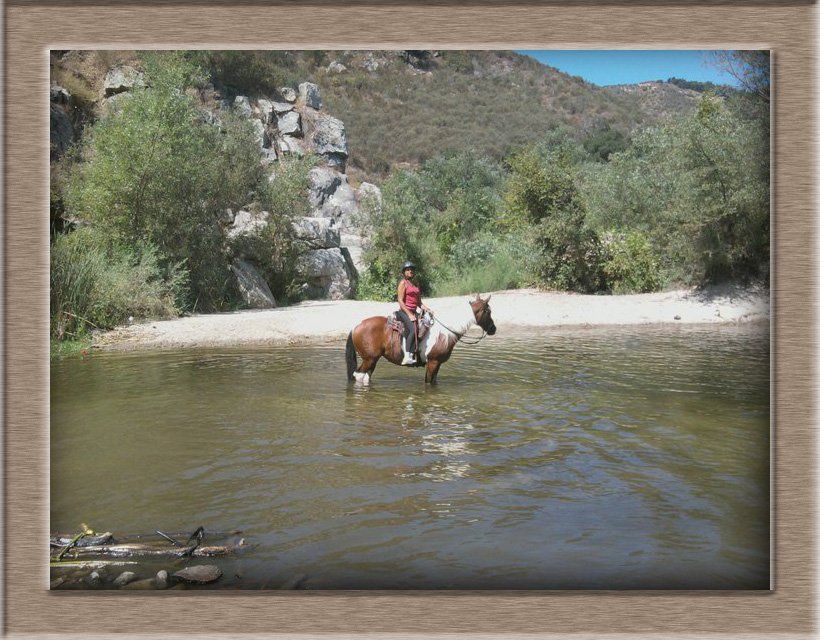 In Fallbrook lies one of the most pleasant riding trails in Southern California. It's called The Santa Margarita River Trail. The hiking park is called Sandia Park, and it takes hikers, which can include their dogs on leashes, directly along the banks of the river. The horse park is off De Luz Road, which is off the Mission/Fallbrook exit off the 15 freeway. This is a scant 10 minutes from Temecula and just 10 minutes from the freeway. Easy to get to from most directions, it offers trail riders a nice parking and picnic area with day-use corrals and porta potties.
The trail itself can go on forever in the eastern direction, following the banks of the river. There are numerous crossings available, but some crossings are rocky and deep, and are for very experienced horse and rider combinations. It is best to find a rider who has done the ride at least once and knows where the best places to cross are. There are plenty of trail signs and for the most part you are heading east, and coming back west along the beautiful and peaceful river on good footing. There are some trail challenges, but I considered the trail quite safe for beginners with an experienced riding team to follow. The water crossings are very nice, with sandy banks and easy entrance. You can just go straight across the crossings or linger to take pictures and explore some of the deeper spots if your horse agrees.
In any case, it is a lovely day, and you can make the ride as long as you like since you do simply go out and come back the way you left with some possiblility of variation. We went out 5 miles to the stage-coach trail, and then came back on the lower south side of the trail which brought us different river crossings and views. Our outing finished at 10 miles. With all the time we took stopping to play in the water and explore, we were out a total of 4 hours. On return we had a lovely lunch, and an easy drive home.
Enjoy the trails!
Gayle