O'Neill Regional Park
Trabuco Canyon, Orange County, CA by Gayle Pena
We began our trek headed for Chino Hills State Park to camp for the weekend and explore. Our directions took us to a couple of signs indicating a state park, but that was all. The road I was staring at looked like an access road for a quad runner, or maybe some boy scouts! There weren't any signs indicating that for sure it was the road to the equestrian camp, and no way was I going to try to check it out with my goosneck trailer and young horse in tow. So, we left. Maybe with different directions we'll try Chino Hills Park again some other time. We decided to try instead O'Neill Regional Park in Trabuco Canyon, and were we glad we did!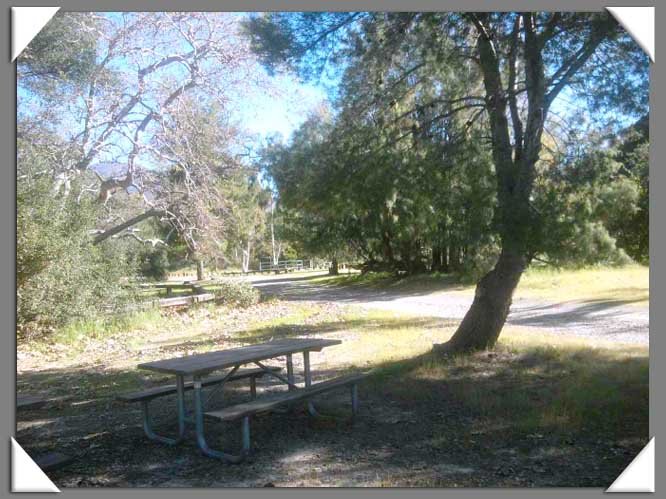 After a grueling morning of driving, we got the phone number for O'Neill Regional Park. First off, a real person answered the phone at the gate and gave us perfect directions to follow. My confidence was coming back, although we got stuck on the 91 freeway for over an hour and a half just trying to get to the 241 toll road. My baby horse is still new to tailering, and every time the trailer slowed to a halt on the freeway he thought it was time to get off. This resulted in a lot of chewed-off nails on my part! Once on the 241 southbound toll road things got a whole lot easier and we had a very calm drive to Santiago Canyon exit where we made a left turn heading East on Santiago Canyon Rd. After a beautiful 11.5 mile drive, including some amazing horse properties and a view of the damage caused by the fires and flooding, you come to Live Oak Canyon where you'll hang a left - you can't miss it. There is a great little restaurant on the corner called Cook's corner. It won't take you long to figure out that it's a Southern California destination for bikers of all kinds. When I drove by there were about 200 of the shiny machines parked out front. After turninig Left on Live Oak Canyon it's another 3 miles through some very impressive oak trees to the park, which by th way has a VERY well marked entrance! Finally! The Park and some friendliness!
The cost is $20.00 per night, and $3.00 per horse to camp. The camp is very user friendly with great pull-ins and nice corral sites. There are about 12 corrals, an arena where events are frequently held, and two large round pens if you need to burn the edge off old sparky before you ride or show off your round penning skills. There is good shade, BBQ pits, and plenty of water, but do bring a hose -- a long one. Now, as I mentioned before, Live Oak Canyon road does carry a lot of biker traffic and the campsites are only about 1/4 mile away from the road, so don't expect dead quiet. I found it excellent for training my baby horse to accept the noise, especially since I was able to turn him out in the big arena and let him get used to it by himself!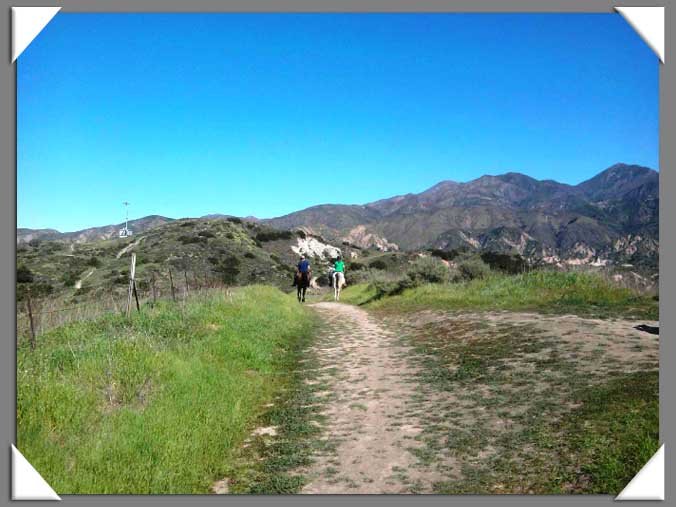 The trails in this park were some of the prettiest I've seen and reminded me of Marshall Canyon, with oaks overhead and green grass and wildflowers lining the single track. The first day we rode out on Pawprint tail which takes you out of the park and leads you to Live Oak Canyon trail, which took us up to a pretty ridge trail and a pond. Then we continued on to Vista trail, and that took us back down to Homestead, all mostly single track trails. There were some low branches, so watch your hats or wear a helmet! It was very pleasant and quiet out on the trail. This was a short 5 mile ride, which was great since we arrived at the park so late in the day. On our day out we took off in the direction of the day use park, Oak Grove, and found the Arroyo Trabuco trailhead, which is 5 miles out, and 5 miles back. This made it a 12 mile ride for us that day. This ride is not quite as pretty as the single track. It takes you behind homes at one point, but at least there are no barking dogs to contend with and you are far enough away from the houses that you don't ride through their backyards. There were trees, water crossings and a few concrete overpasses along the way. Oh, and it is rocky. Eventually you come to an end, and you come back the same way you rode out. There are lots of trails we didn't get a chance to explore that looked gorgeous. That will have to be another trip.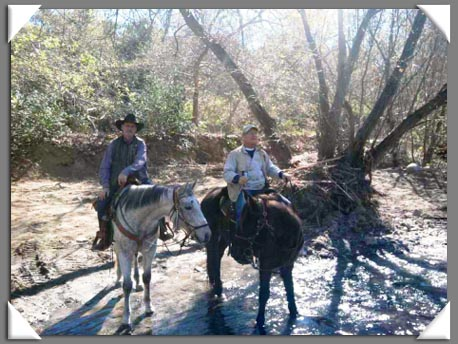 There were lots of friendly people who live in the area that came in to use the facilities during the day and ride the trails. We ran into some locals, Jeff and Jim, riding their gaited horses. They were out checking the trails and making themselves available to give directions or help to anyone who might need it. They told us that the Saddleback Riders have a lot of events at O'Neill, so it sounds like a lot of fun for everyone. If you decide to camp there, make sure you check the availability of campsites first by calling ahead. We just about had the whole place to ourselves, but it could get crowded with only 12 corrals available.
See you on the trails,
Gayle