This website is dedicated to the memory of my friend and mentor, Dr. Islyn Thomas (1912-2002). Dr. Thomas created my favorite toy I had as a child, a bright red motorcycle with yellow wheels and a vinyl rider. His support and encouragement throughout our friendship was instrumental in the creation of DIMESTORE DREAMS, AMERICAN DIMESTORE, and U.S. DIMESTORE.
Islyn Thomas was born in Maesteg, South Wales in 1912 and immigrated with his parents and older sister Sarah to Scranton, Pennsylvania in 1923. After completing one year of high school, he attended Scranton's Johnson School of Technology, where he learned the art of tool and die making. He graduated president of his class in 1930 and landed a job as a tool engineer at the Consolidated Molded Products Corp., also located in Scranton. At the time, Consolidated was the largest molder of plastics in the world.
By 1938 Thomas had worked his way up the ranks to become chief engineer and was in charge of the development and molding of the plastic parts that went into the Rolls Royce Merlin motors that were so instrumental in the R.A.F.'s victory in the Battle of Britain.
Besides contributing to the war effort, Consolidated had a growing list of customers from the automotive industry. Company records from 1940 show they were molding parts for the Cadillac Motor Car Co., Chrysler Corp., Crosley Motors, Inc., Hudson Motor Car Co., Packard Motor Car Co. and the Pontiac Motor Div.
Most the parts molded for the above customers consisted of inside door handles and control knobs. It was not until 1940, when Consolidated received the order for the hood ornament for the 1942 Pontiac eight, that such a large clear plastic part was even considered for injection molding.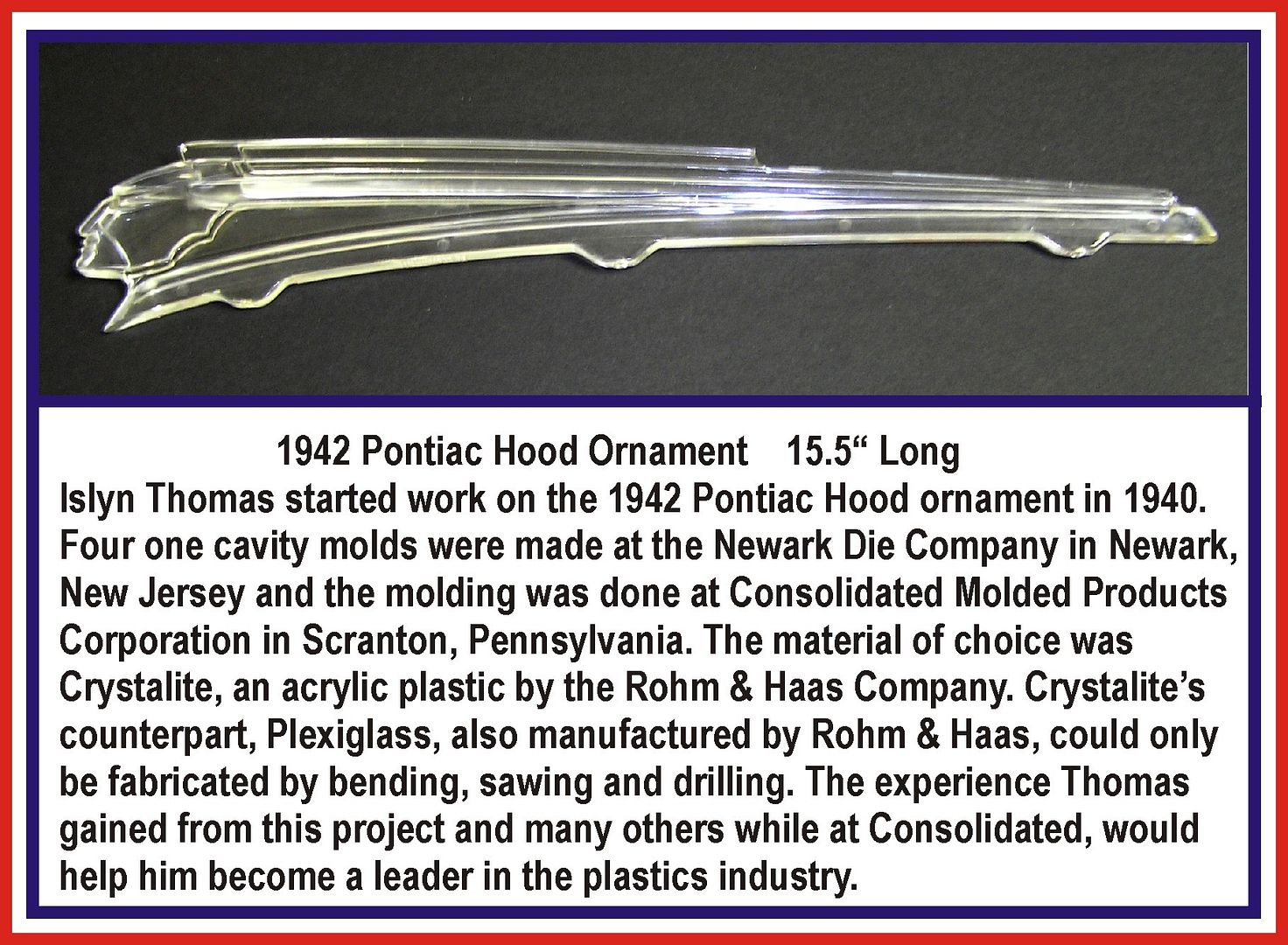 Consolidated had their own in-house tool and die shop, but the Newark Die Company, located in Newark, New Jersey, got the call for such a large and complicated mold. The Newark Die Company was started in 1918 by plastics pioneer John Hohl. It was the premier tool and die shop in the US at the time and Thomas spent many hours there working out the details of Consolidated's more complicated molding jobs. In 1940 Thomas married Hohl's daughter Ruth, who worked in her father's office. Thomas would later serve as president of the Newark Die Company from 1954 until 1960, while running his own successful toy company, the Thomas Manufacturing Corporation.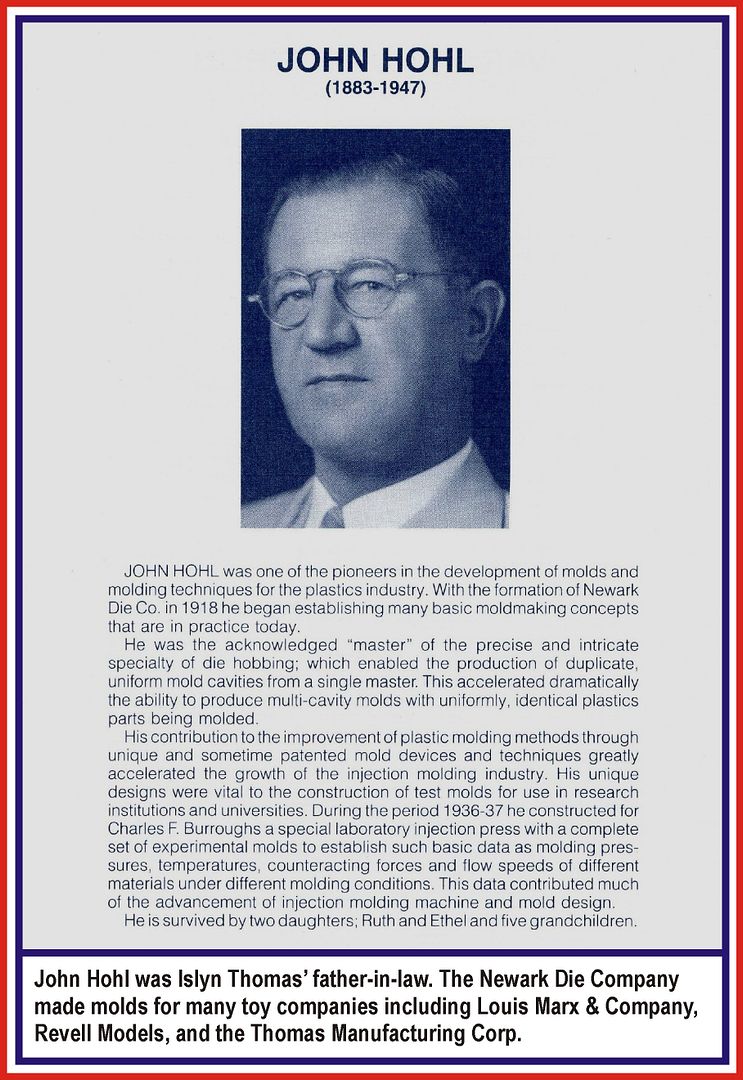 Consolidated records show that four one cavity molds were made because of the size of the Pontiac hood ornament. The material of choice was Crystalite, manufactured by the Rohm & Haas Company. Crystalite, an acrylic plastic, was chosen because it was crystal clear, lightweight, strong, unaffected by the weather and could be injection molded. Its counterpart Plexiglas, also manufactured by Rohm & Haas, could only be fabricated by bending, sawing and drilling.
The ornament, an engineering coup de grace for Consolidated, was featured in many industry magazine articles and ads. At the time there was nothing like it and there wouldn't be until automobile production started up again after the war.
In 1942 Thomas left Consolidated to become the General Works Manager of the Ideal Novelty and Toy Company's new plastics division. While at Ideal Thomas worked on many military contracts including the molding of parts for nine million gas masks and parts for the proximity fuse, which was credited with helping turn the tide in the Battle of the Pacific. When Ideal's molding machines were not turning out plastic products to help in the war effort they were busy producing toys for a generation of appreciative children who had grown tired of the wooden and paper toy substitutes that filled department and dimestore shelves during the war.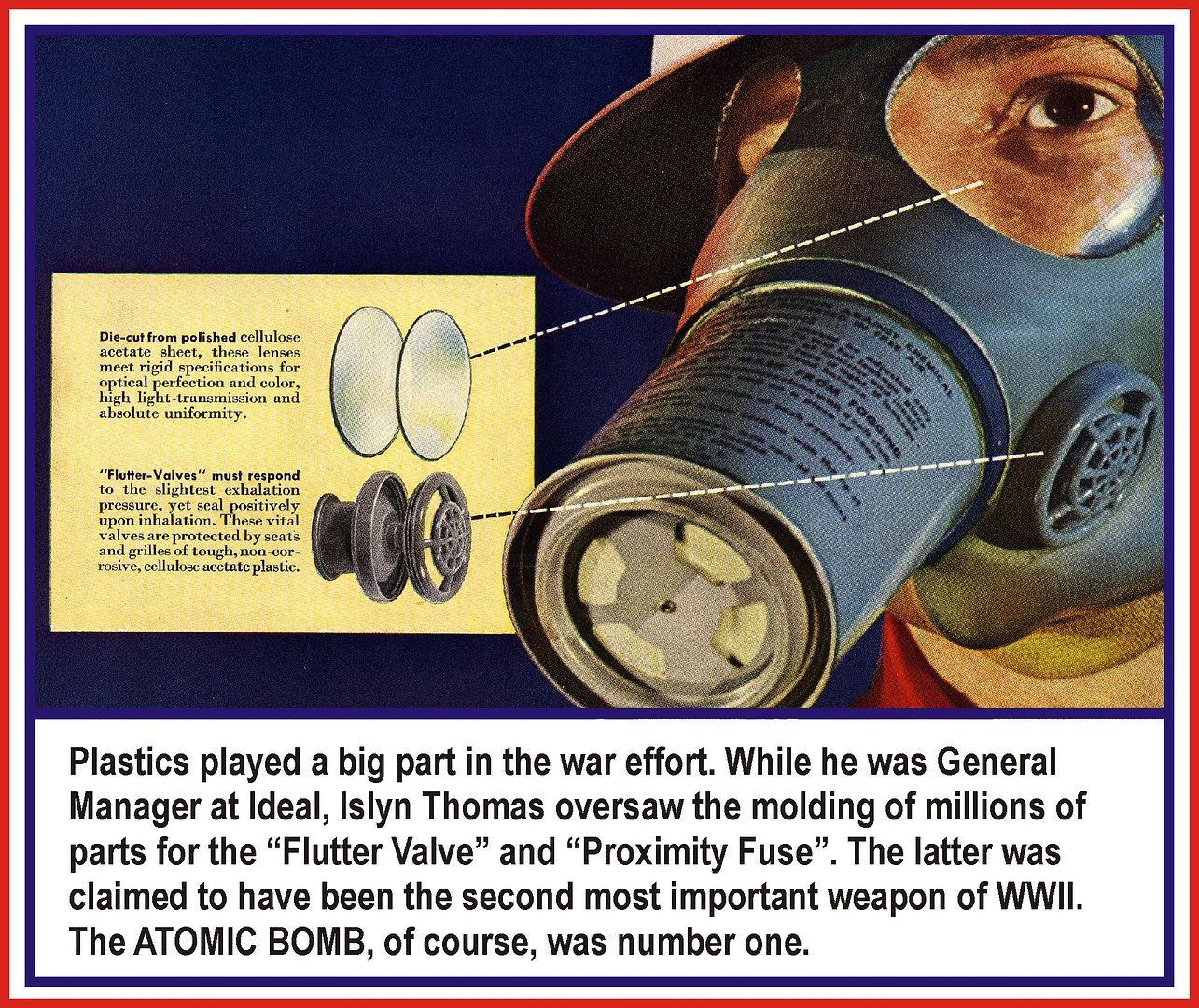 From 1942 until the end of 1944 Thomas designed and molded millions of plastic toy jeeps, ships, planes, and tea sets. His last two toys at Ideal were a pistol with a revolving cylinder, and the first plastic telephone. Both were introduced late in 1944, and were made from the black scrap plastic left over from defense contracts. The telephone would go on to be one of the best selling toys of all time.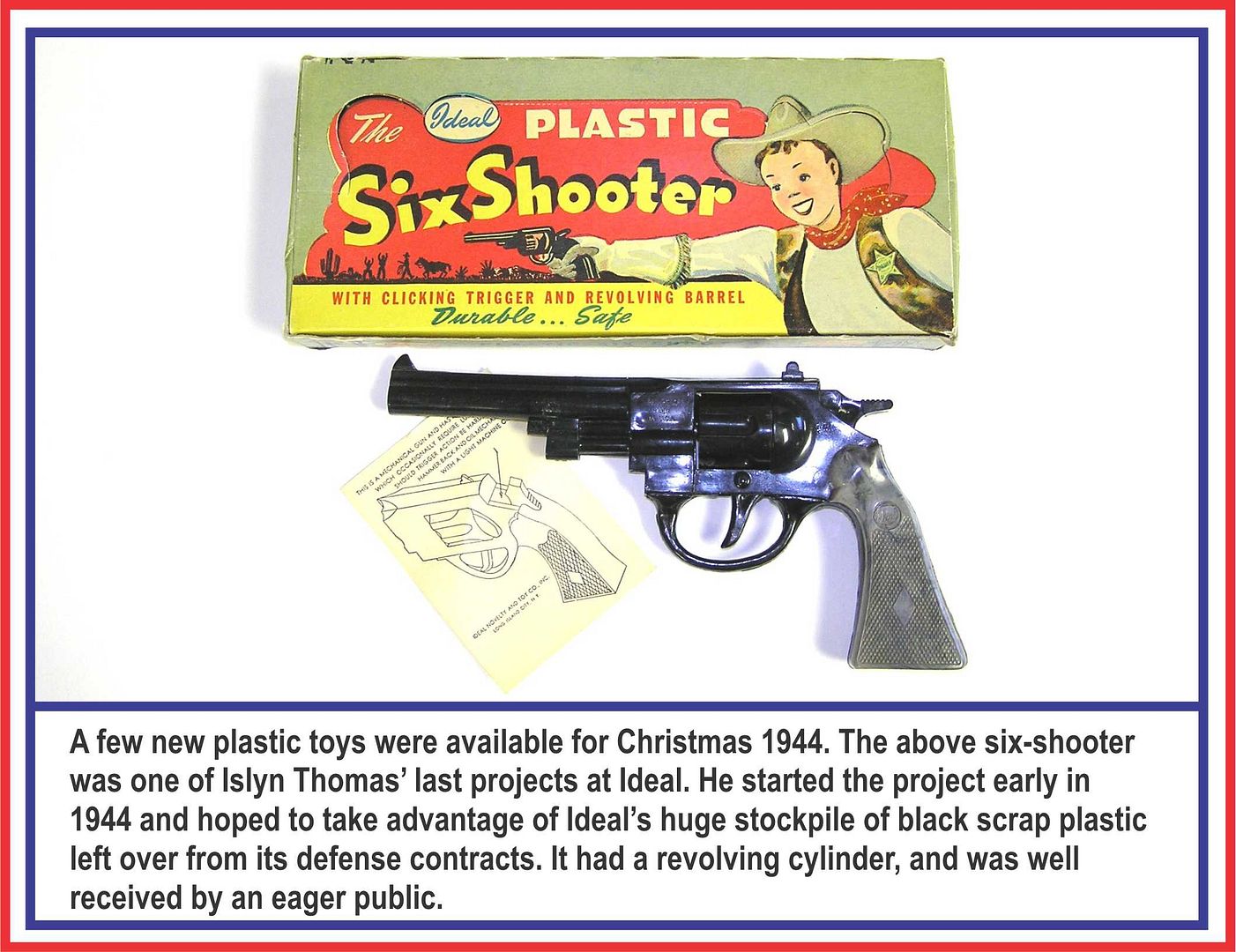 Thomas left Ideal in November 1944 and started the Thomas Engineering Corp. with Benjamin H. Shapiro owner of Acme Plastics Manufacturing Company, which was really just an office in New York City. Acme had only a few toys at the time, a filmstrip viewer, three planes, and three boats, all created by Thomas and Shapiro when Thomas was working at Consolidated. The new company, the Thomas Engineering Corporation, was located in Newark, New Jersey and the new line of toys, designed and molded by Thomas, was sold and marketed under Shapiro's Acme Plastics Manufacturing Company name.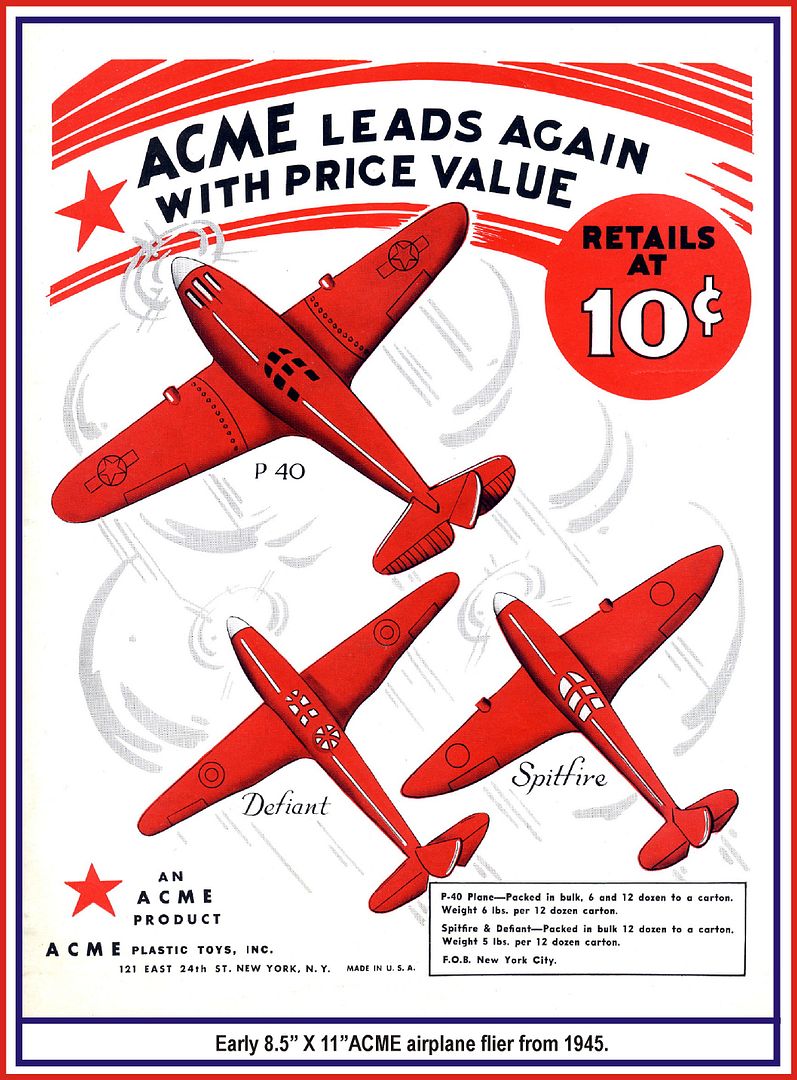 Thomas bought out his partner in June 1949 and from then on, the name Thomas Toy was used until 1960 when the company was sold to Banner Plastics.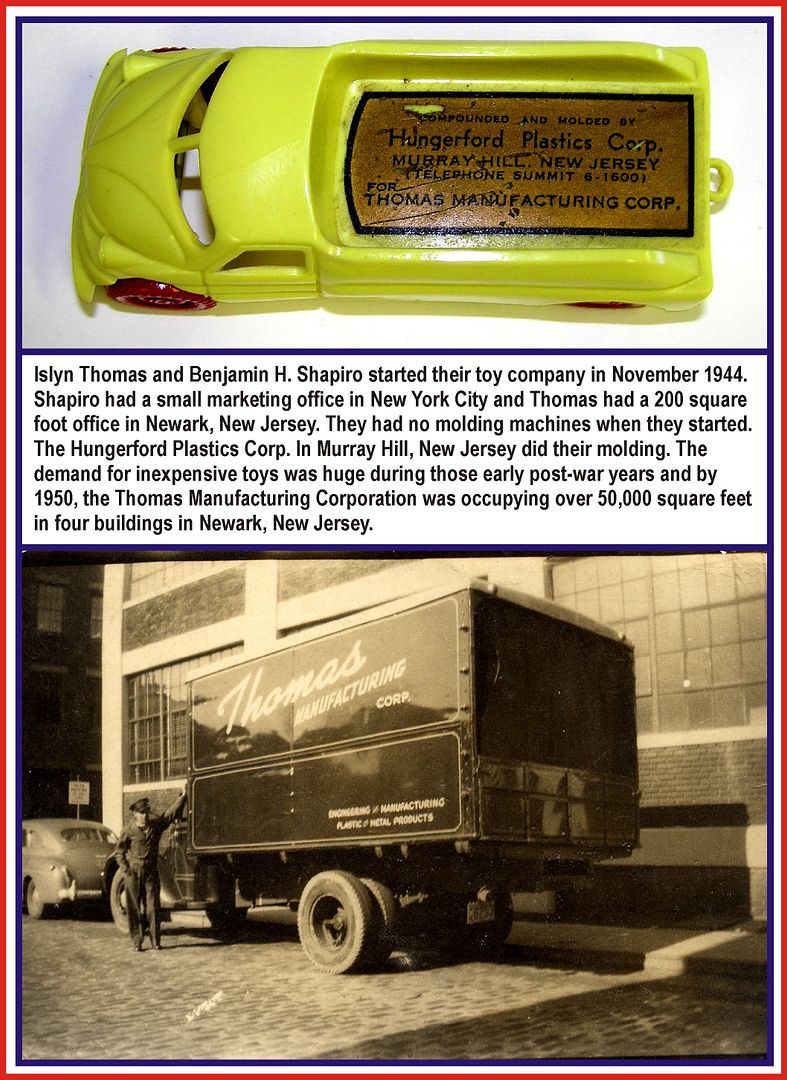 From 1945 to 1957 Thomas' creations could be found in almost every department and dimestore across America. The company's first successful toys were a sturdy Jeep with folding windshield and the first plastic toy helicopter, which had a rotor that turned when the toy was pushed or pulled across the floor. More than a million of each were sold in 1945 making them two of the biggest toy hits of all time.
In 1948 Thomas introduced the first plastic motorcycle. His timing was perfect as an interest in hot rods and motorcycles was sweeping the country.
The Thomas Toy boat line, introduced in 1950, became the standard for the toy industry. No trip to the beach or mountains in the 1950's was complete without a sand pail, shovel, and a few Thomas Toy boats.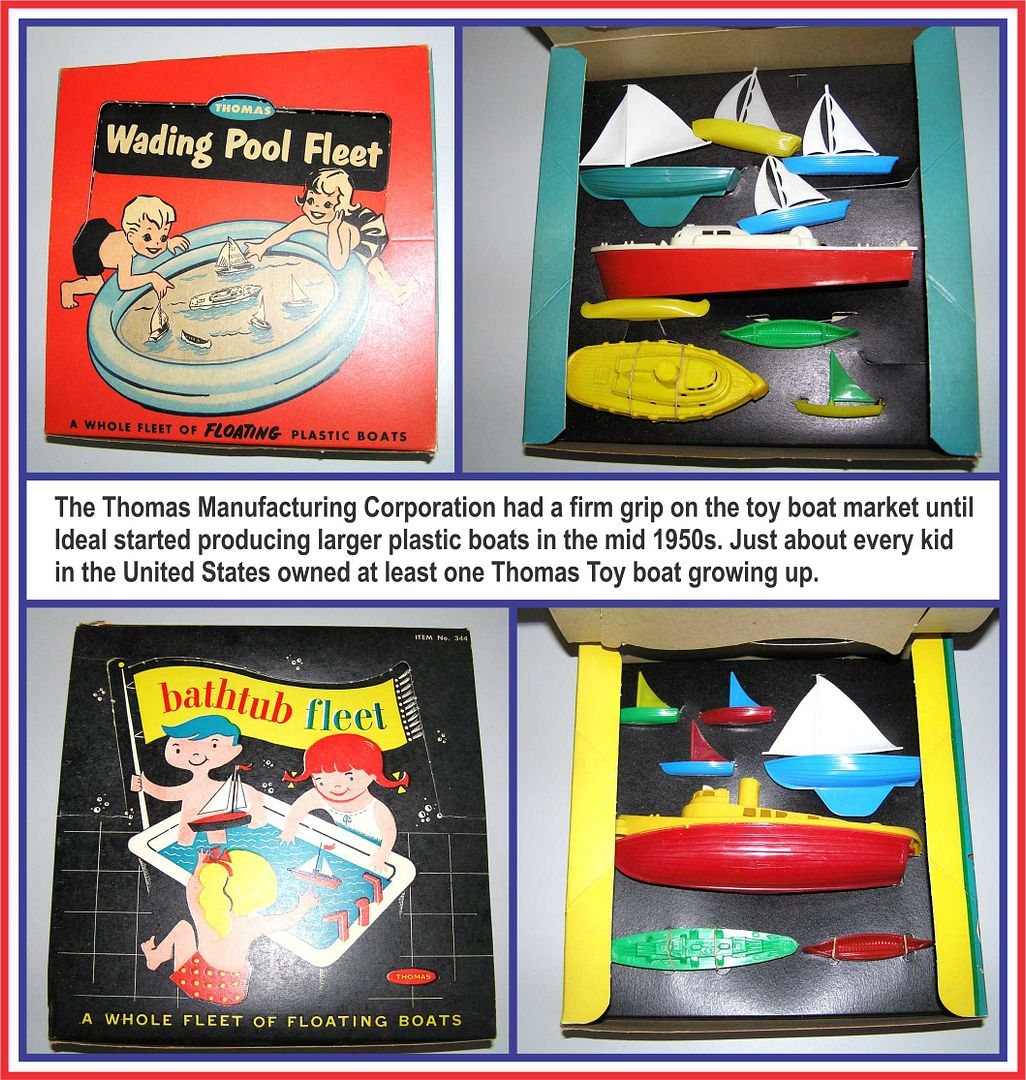 Another huge hit for Thomas was a line of plastic doll house accessories and miniature vinyl dolls, cats, and dogs that were introduced in 1948. To the delight of little girls everywhere these colorful and imaginative toys soon filled the toy department shelves and counters of Woolworth's, W.T.Grant's, Kresge's, and McCrory's.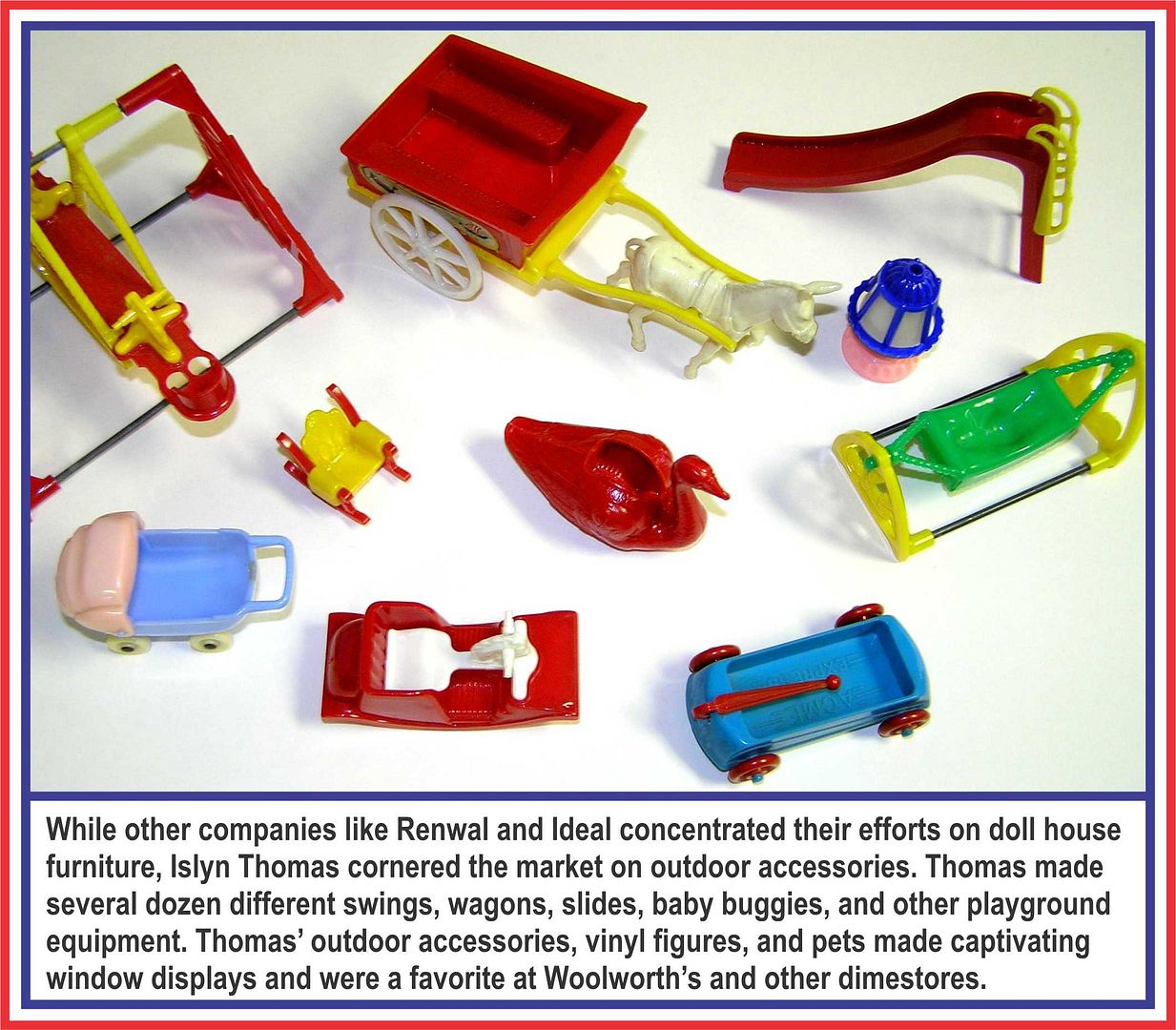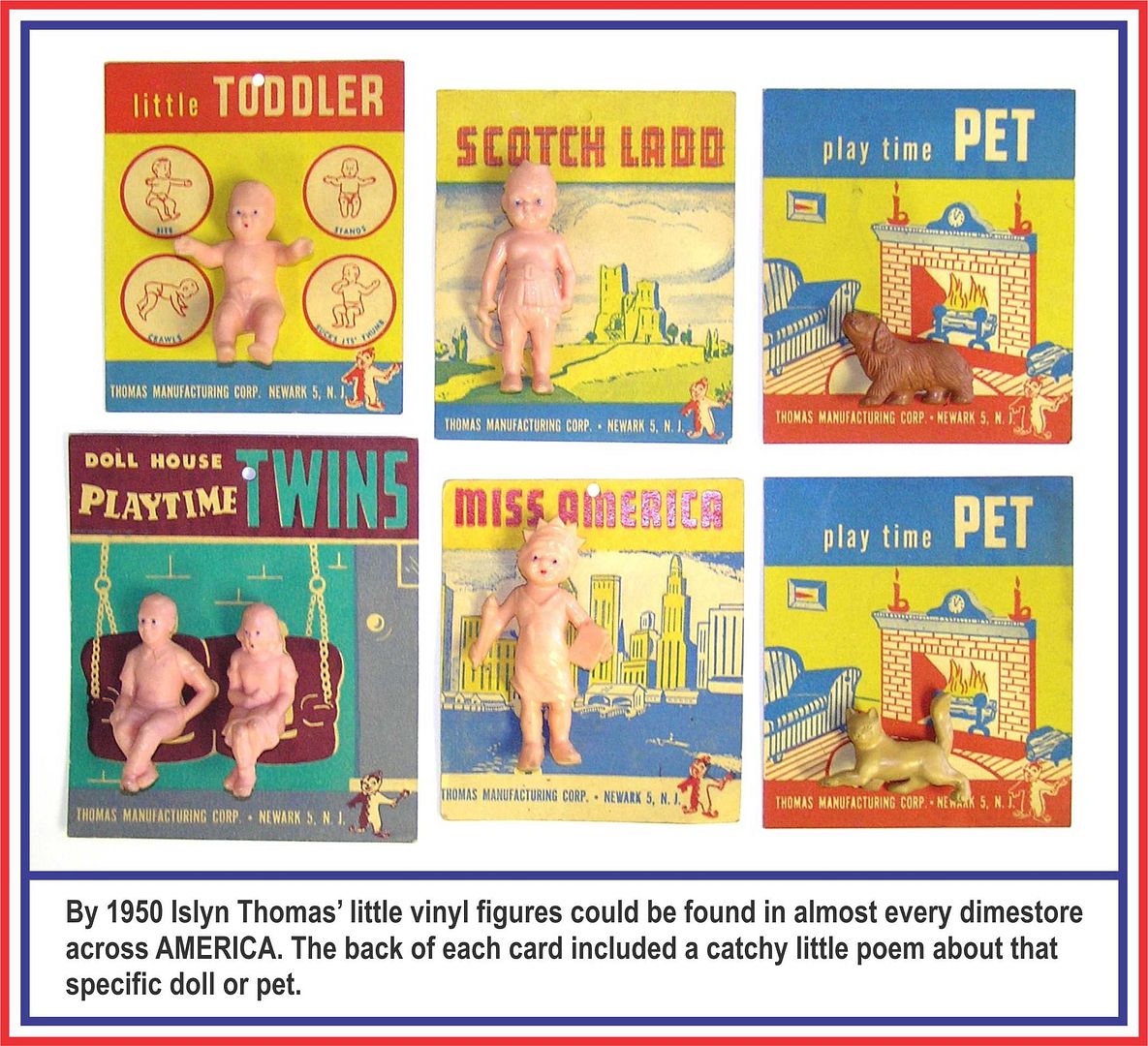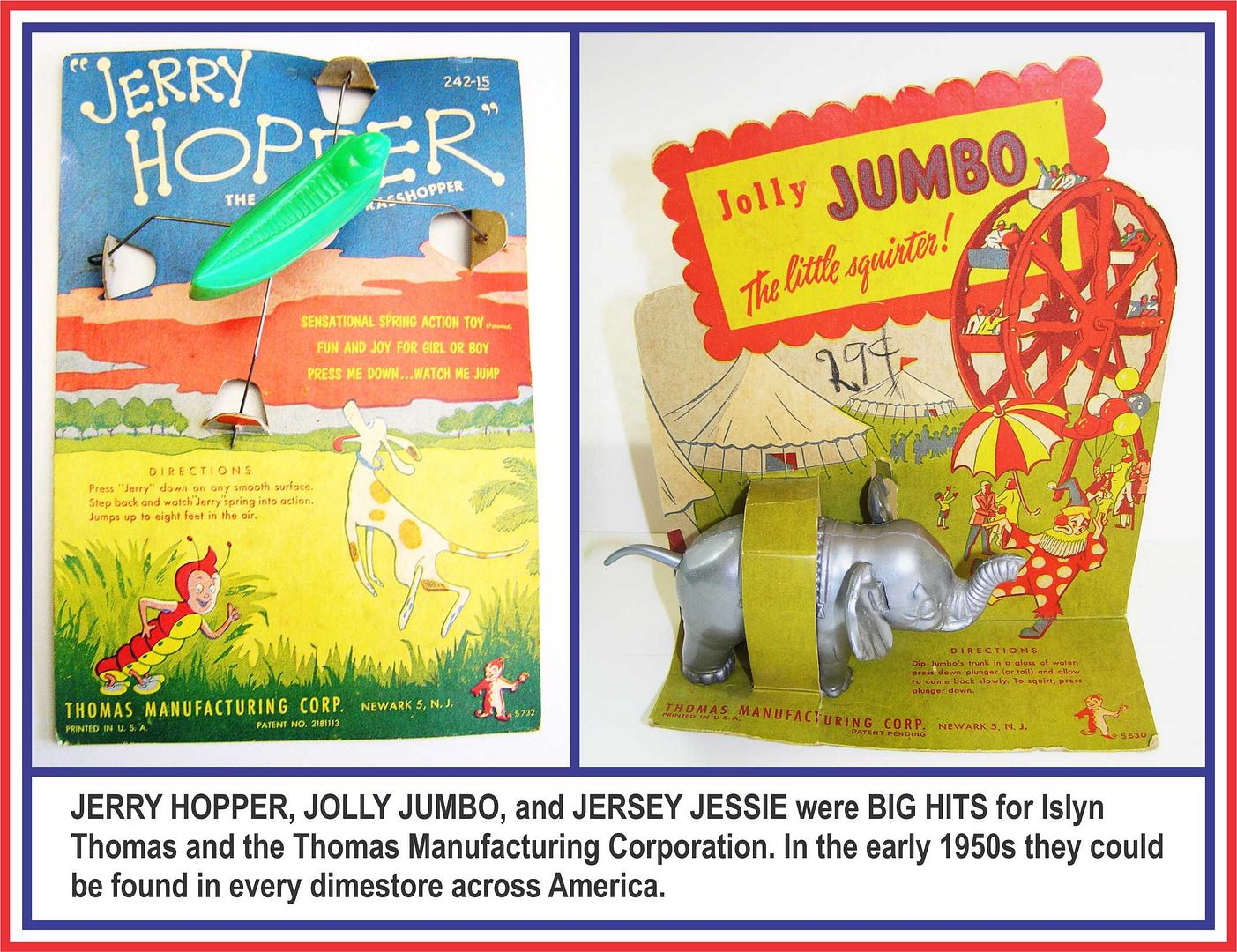 From 1960 on Thomas worked as an international plastics consultant. For his many contributions to the advancement of plastics throughout the free world he was invited to Buckingham Palace in 1975 and was appointed an Officer Of The Most Excellent Order Of the British Empire by Queen Elizabeth II.
Thomas, who was inducted into the Plastics Hall Of fame in 1979, passed away May 21, 2002. The hundreds of different t